Apr 19, 2021
Sophia Clark
Parenting is Essential for Teens whether they Like it or Not
Digital parenting is not much discussed as it is regarded as a topic that brings some discomfort among family members. Imagine would you, as a teen ever wanted yourself to be spied by your parents? No, right? Likewise, Your teen kid will also not like being monitored in each step. But you have to track their online activities to keep them safe and make your child take only good things from the Internet. So, I say ' Digital parenting is essential for teens, whether they like it or not'.
The concept of digital parenting is not only limited to monitoring or tracing your child's every step in the digital world, but also it is related to counselling and guiding them to aright path. Every teenager's parent must know about their teen's online activity as the Internet is a great place offering tools for social interactions. It opens a wide door of opportunities by giving your child a kind of global exposure. But there is also a bitter reality associated with the online world ranging from cyberbullies, predators, abusers and more.
It can appear like adolescents spend a huge part of the day accessing internet technology. It's difficult to know where the boundaries lie in secure, productive usage and over consumption of technology. This blog will guide you to explore a little more about how your kids use technology, whether they use it safely or not, and when there may be an issue with how they spend their time online. For proper digital parenting, you must try to know how you can help your child to use technology safely; you must be aware of the side effects and risk of the Internet and virtual world on teens, you should find out and try to solve their issues. For all these, you must first understand why do teens use the Internet so much.
Neither you can keep your teen completely away from the Internet, nor you can let them freely surf every content available on the Internet. So, to make your trip to digital parenting easier, we have brought a spy app; fenced.ai. fenced.ai will give you each detail of your kid activity, ranging from their browsing history, social media, phone calls, SMS to location. As it operates remotely and in complete stealth mode, your child won't know they are being spied.
Neither you can keep your teen completely away from the Internet, nor you can let them freely surf every content available on the Internet.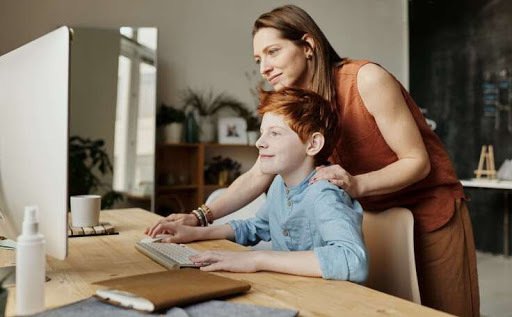 Tips for parenting in the online world
Parenting in the digital world is not as hard as it sounds. Parenting has always been and always will be put in this digital age, and I think parenting will be the most challenging than it will ever be. Now heading towards the protective measures a parent can adopt to prevent all of this mess, since it is the world of digital technology, using the technology at its highest can be a first measure a parent can adopt.
Makes plans and rules that best fits your parenting technique and family ethics. If you make proper use of internet technology, it can make your daily life better, but if you do not make its proper use, then it can deprive you of family-time exercise, face-to-face interaction, sleep time and many more.
Parenting guideline is similar in the reel and real world. It would help if you tried to collect information about your teen's friend circle both in the real and online world, what type of application and software your child use, platforms that your teen engage more time and limit their technology usage etc. Try to engage yourself in the activities that your teen love. Maybe you can play an online game or be a part of their social media.
How and Why teenagers use technology
As a parent some times you may get irritated understanding the relationship between teenage and Internet as most of the time, you may feel the life of your teen child only revolves around technology and reel world.
Whether it be online games, television show, phone calls, or social media and various other online platforms, technology has become advance and more addicting. Internet technology has become an inseparable part of our life. There is a different reel world on the Internet that completely varies with the real world.
We now have got global exposure in some way. People that are close to us in digital life might not have seen us in the physical world. Teenagers use social media and related platform to study something related to their coursebook, revise lessons, play various online games, create creative content, search and join a group of their interest, research on their area of interest, chatting or online messaging, building social network, and many more
Teens using technology: the Benefits
Information communication technology has opened numerous doors of opportunities for people of all age. With the young, creative mind, your teens have the power to conquer the world by proper use of technology. Teens of this generation were introduced a fully digital world at an early age. As a result, they have more knowledge about their usage. The only thing that you have to teach is about researching on the right topic. With the use of technology, your teen can:
Easily research on the topic of their interest.
Develop networks and relationship over the Internet.
Showcase their creative skills and talent
Use it as a platform to learn new skills and upgrade themselves
Work on their personality development
Stay connected with the diverse community around the world to exchange culture, thought, and idea
If your teen becomes a success in being a good digital citizen by using the Internet in the right way, you can be assured that they will do good things in real life as well. If they can manage the time for the use of the Internet, school, family and relatives, you can trust and be proud of your teen child.
If you are a parent who is struggling with parenting in the digital age, then I want to help you introduce the best child monitoring software, fenced.ai. It will help you to monitor your kid and guide them the right path. fenced.ai offers features of tracking your kid's real-time locations, their online activity and blocking the access of inappropriate contents on the website. If you are wondering about the security of the app itself, then you don't have to worry. fenced.ai is virtually undetectable.
With free child monitoring software like fenced.ai, you can raise your children, teaching them how to act and manage in public and protect yourself from the inappropriate content on the Internet. fenced.ai takes the worry of the parents in letting your children use the Internet and make the best use of technology. As a busy parent, you cannot spend time with your children every time.
Because of this digital age, children are going to be exposed to some digital technology in one way or another, and cannot be helped. A parent cannot stop and control technology, but technology can control another technology.
fenced.ai not only ensures the safety of your children but provides an opportunity to the children to make good use of technologies preventing them staying at the corner sticking to the same device hours and hours isolating themselves from the family, from the real world. Installing fenced.ai brings peace of mind to those parents who are worried about the negative impacts of digital technology.