Apr 22, 2021
Juliya Smith
What are the Best Free Keylogging Tools?
Computers have taken an integral role in the business sector and also the private sector. Proper interaction between humans and the computer has made life trouble-free. It is possible because of input devices.
We provide the systems with input with the help of input devices to get the expected results. Yet, given instructions can be confidential. Various methods are used to track and steal the instructions provided to the system. Keystroke logging or keylogging being one of them.
What is Keylogging?
Keylogging is the process of documenting the detailed keystroke typed on the keyboard. With the support of keyloggers, previously given instructions are retrieved. Keyloggers track the employee's regular productivity and kid online activities. Many Hackers often gather sensitive data and may use keyloggers.
You can get the best free keyloggers software in both android and iOS. But, in iOS, you have to connect the app with iCloud using its login credentials.
How do Keyloggers Work?
Keylogging can be hardware or software designed to automate keystroke logging processes. Usually, Keylogger software stores your every keystroke in a tiny file that is retrieved later. The software can search texts, such as detecting sequences of numbers and uploading them to a malicious server.
A hardware keylogger comes in the form of a portable device installed in the keyboard or CPU itself. The keylogger captures each keystroke when the user types on the keyboard, and stores it as text on a compact hard drive.
When Keylogger is installed on a computer, it saves all computer activity. For instance.
➔ Save every password that the user has typed on the screen.
➔ Save all user-searched website URLs.
➔ Store all the messages and emails.
➔ Record all the application on the device that is running
Importance of Keylogging
Keylogging software plays a vital role in business and parental control. It depends on what reason one uses the keylogger software. This application is designed to control employees and allow parents to track kids.
In IT companies, keyloggers are used to troubleshoot computer and network issues. A family or organization may also use keyloggers to track people's network usage.
Types of Keyloggers
There are two common types of keyloggers :
Hardware Keyloggers

Many internet users may not even know that there are hardware keyloggers and that passwords are not only spied with software. A portable device that functions as a gateway between the keyboard and the console is the hardware Keylogger. Some hardware keyloggers run at the BIOS level.
It doesn't need a driver or program and operates with all operating systems. A hardware keylogger is connected between the computer keyboard and the computer. Usually, it is connected in line with the cable connector of the keyboard. Hardware keyloggers are used for keystroke logging.
Software keyloggers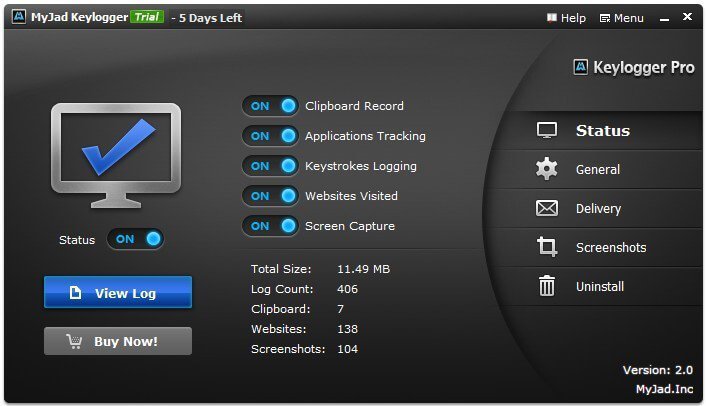 It is installed on a target device directly or remotely. Someone who wants to track the activity on a specific device will intentionally download it. An attacker can trick the victim into clicking a malicious link and then download the keylogger.
In general, the software keylogger runs in stealth mode. A hardware keylogger is easy to find because it is attached to the device. Fast deployment and automatic compilation of the data on the internet are the reasons for selecting a software keylogger.
What are the Features of Keyloggers?
Keystroke Recording
It keeps all the records of pressed keywords including hidden system keys and the windows they had been pressed into. It keeps a record of where the keystroke was entered, the user who typed, and the date and time of the record. What you need to do is push the Load Report button and all the data streams will be updated for the selected date.
Application Tracking
All the applications that run on your device and the text typed in these applications can be tracked by Keylogger. With device logging on, you can get records of all the applications used on the device. The aim is to easily understand what time the user is running the computer apps.
Screenshot Capturing
You can take a screenshot at any time you want without knowing the target device. Without logging keystrokes, the screenshot helps you to understand what's going on with the device. Along with other documents, these screenshots are stored on your device and can be used in reports and backups.
Web Browser Tracking
You can monitor all the internet activities including site name, clicking the link, or any inappropriate content. For each internet operation, the URL, user, date, and time are recorded. Later, you can also re-visit the website directly inside the application.
Encrypted Log Files
You can configure all the log files to be encrypted with a protected private key. If anyone tries to access your log files, the viewers have to provide the private key. This prevents the log files or documents from being able to hack by any unauthorized persons.
Advantages and disadvantages of keyloggers
Advantages of Using Keyloggers
The activity log can be viewed remotely.
They gather data directly from the periphery device(keyboard).
Companies may monitor their workers at work about what other things they do on the devices.
Parents can track their children's or kids' online activities.
It's invisible to the human eye which's hard to detect.
Disadvantages of Using Keyloggers
Release your data and sensitive information to hackers can harm you.
Anyone can be aware of your social media account and you will have zero privacy.
Keylogging software is so expensive. You have to subscribe to each feature to use it.
Ways to protect yourself from keyloggers

Two-Factor Authentication
It's a reliable security system that requires two factors to authenticate a person. Implementation of two-factor authentication will assist users to secure their confidential credentials. If the password you enter is intercepted, using a one-time password will help to reduce damages. The one-time password is temporary, and the next time hackers can't use the same password.
Setup Firewalls & Anti-Virus
You should use anti-virus to avoid the installation of malicious apps on your device. Anti-virus will identify and block malware in real-time and protect your device. But, it's a fundamental step to prevent keylogging.
Virtual keyboard
You should always use a virtual keyboard to enter your details. The Virtual Keyboard helps prevent hackers from intercepting personal data. Since keyloggers only read physical keystrokes when you enter your data, you are safe.
Anti-Keyloggers Software
Nowadays, there are several paid and free software that can be used for detecting and deleting Keyloggers.
What are the best free keylogging tools?
there are many keylogging software available online. Two types of keyloggers are available today. The first one is software-based keyloggers and the second one being hardware-based keyloggers. The majority of users use software-based keyloggers. And there are only a few usages of hardware-based keyloggers these days. Hardware-based keyloggers come with a price but many software-based keyloggers are free. Some of the best and widely used free keylogging tools are listed below.
9 Best Free Keyloggers Applications
1. Spyrix Free Keylogger :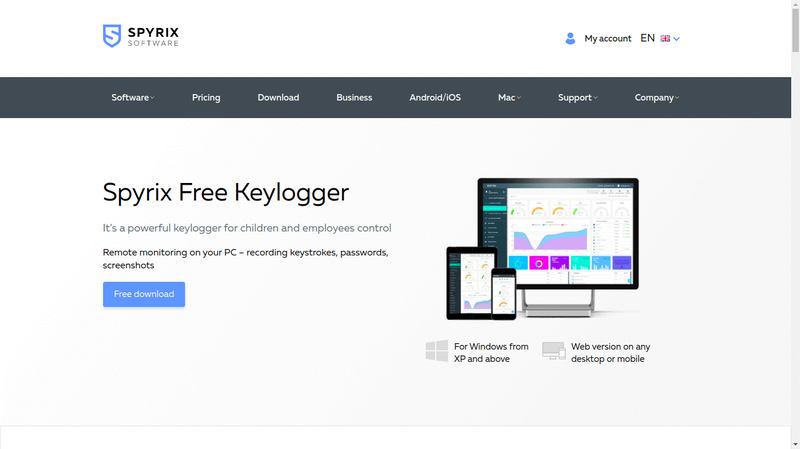 Spyrix is ​​sure to be the first keylogger to make this list. The system controls and records every single button. Even the free version can track and record entered instructions.
Spyrix also offers cloud monitoring in the free version of the software. Cloud monitoring allows you to watch keystrokes without physical access to the device. You just need to register the account online.
➔ Features :
Remote Monitoring by Creating the website account.
Viewing all running applications.
Remote uninstallation.
Recording user activity.
Keystrokes logging.
Removable devices control.
Clipboard Control.
2. KidInspector :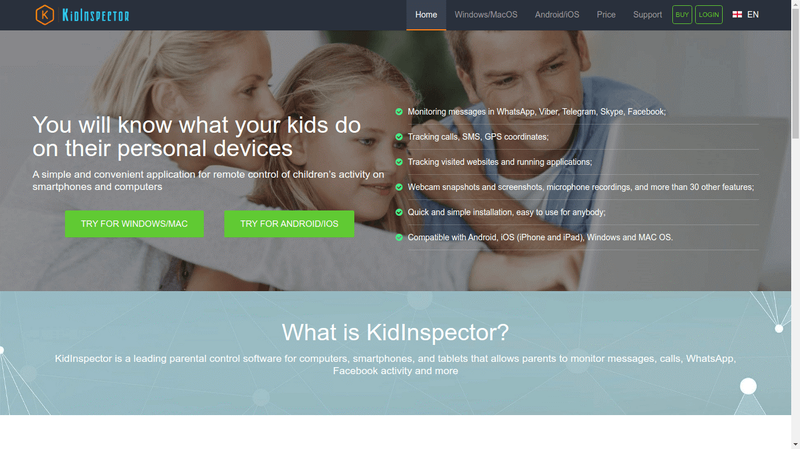 This application is mainly designed for monitoring young kids. KidInspector is hugely popular among parents worldwide. Parents will know what their kids do on their smartphones, tablet, or computers. KidsInspector also features additional tools besides keylogging. With the help of KidInspector, You can help your children from bad company and online violence.
➔ Features :
Keystrokes recording.
Remote Monitoring.
Viewing all running applications.
Viewing Web search queries.
Screen and Webcam Broadcasting.
Recording user activity.
3. Refog Free Keylogger :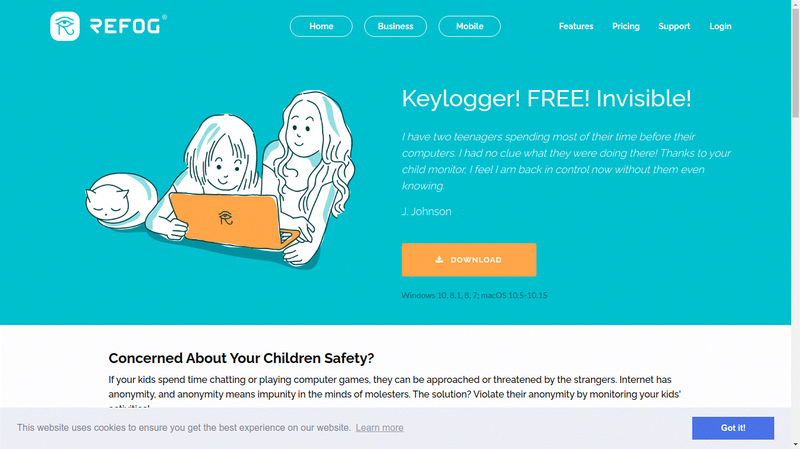 Refog Personal Monitor is another keylogger software that you should pay attention to. It can record button clicks, screenshots, online activity, app usage, and can monitor files. Compared to other free software, Refog free keylogger comes with a minimal attractive UI.
Refog free keylogger does not have the feature that can limit any activities on the computer like some other keylogging software. Right now only the trial version of Refog is available on the official website.
➔ Features :
Recording user activity.
Recording keystrokes.
Screen Capturing.
Files and Message tracking.
Application monitoring.
4. Kidlogger :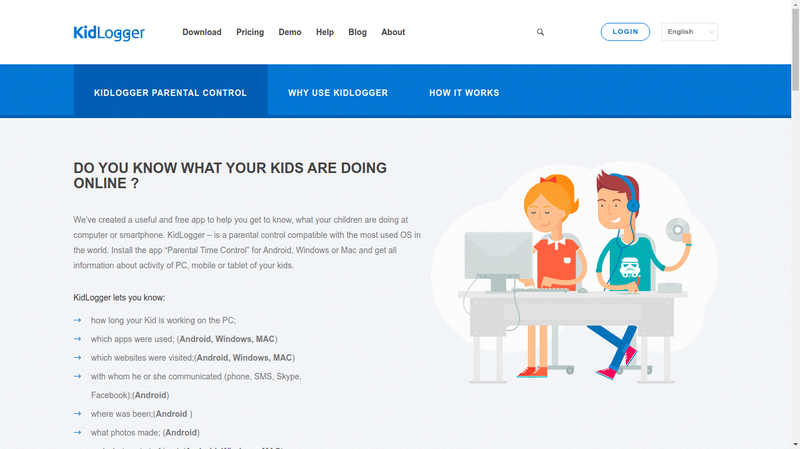 KidLogger offers a free version and two other registered versions. The application takes recordings and screenshots at set times. And also the app records what is typed on the computer and what is seen on the screen.
With the help of this software, you can track up to 5 different devices. And also, it can keep track of the history of up to 9 days. KidLogger is a decent parental control keylogger with many useful features. However, some of the features are limited to the free version.
➔ Features :
Recording keystrokes.
Records browsing history.
Tracking time.
Removable devices control.
Records details of used files and folders.
Application monitoring.
5. Actual Keylogger :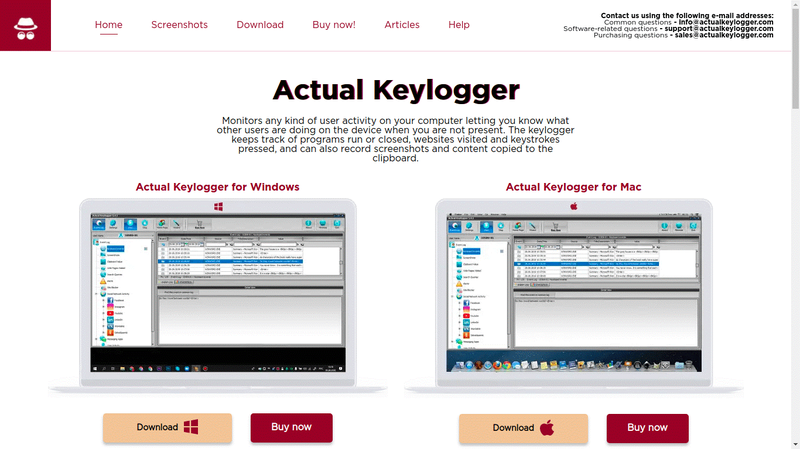 Actual Keylogger can record button clicks, clipboards, and online activity. The actual keylogger allows us to block access to some websites. However, you will need to buy the full paid version of the application to use all the useful features.
The software records all buttons, active and closed applications, websites visited. And also controls all print, paste, and screenshot operations. It also contains a feature that can protect your recorded files by using a password.
➔ Features :
Application monitoring.
Recording keystrokes.
Clipboard Control.
Removable devices control.
Records browsing history.
Screen Capturing.
6. Revealer Key-logger :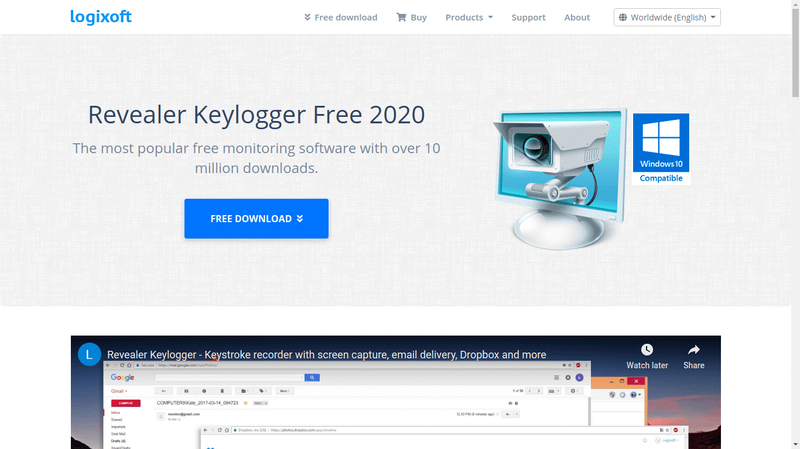 Revealer Keylogger Free is a powerful tool when there is no amazing rating of Windows. It can work initially, hide from users, and protect password access. But, if you use advanced features such as taking a screenshot, getting email notifications, and include the IP address, you have to get the paid version.
The software can also track messages from various social media. Password protection is provided to prevent other users from unlocking it. Because of its hidden mode feature, it does not show any traces of the application in the system.
➔ Features :
Files and Message tracking.
Remote monitoring.
Invisible mode.
Keystrokes recording.
Screen Capturing.
7. Iwantsoft Free Keylogger :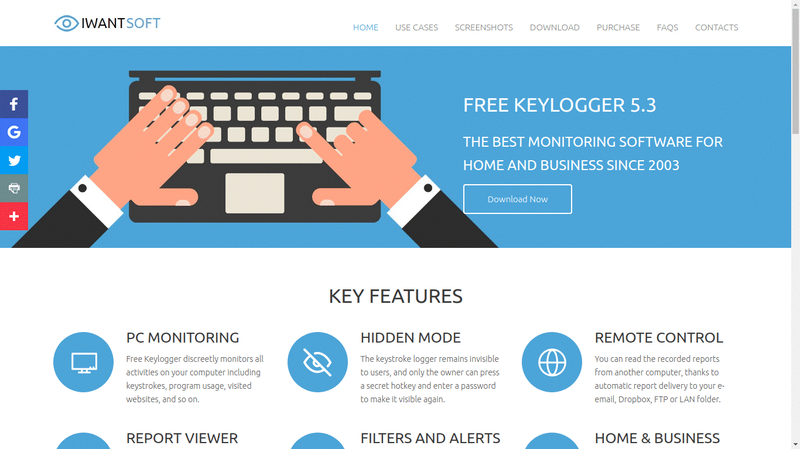 Iwantsoft Free Keylogger monitors all computer activity. It helps in tracking app attachment content, login usage, browsing history, and screenshots. Other activities are also being recorded.
This application is very much suitable for home and also work use. At home, it can be used by parents to watch their children. At work, it may be of interest to employers to ensure that their business secrets are kept confidential and maintain data integrity.
➔ Features :
Remote monitoring.
Invisible mode.
Filtering and alerts.
Keystrokes recording.
Application monitoring.
Files and Message tracking.
Clipboard Control.
Records browsing history.
8. Ardamax Keylogger :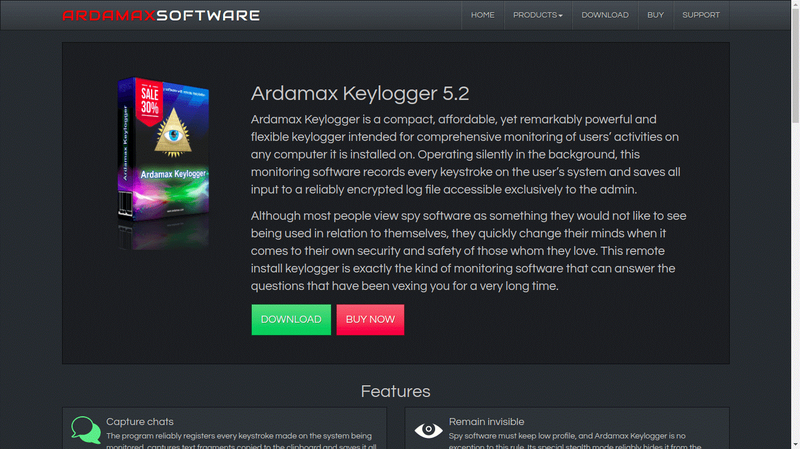 Ardamax Keylogger is an integrated, inexpensive, but powerful, and flexible keylogger. This application aims to watch the activities of users on any computer installed on it.
It can be used in any operating system in the background without any traces. This monitoring software records all the buttons and credentials of the user.
➔ Features :
Invisible mode.
Files and Message tracking.
Remote monitoring.
Audio recording via targeted device microphone.
Keystrokes recording.
Screen Capturing.
9. Basic Keylogger :
Basic Keylogger is a recently developed keylogger written in python. It is a programming language for general software development and design philosophy. This software tracks all the keyboard as well as the mouse activities. It is only visible to the person who had the upper hand in the deployment of this software. Not only is this keylogger limited to features but it is very useful to keep track of some people's incoming and outgoing messages.
Conclusion
Keylogging is an unofficial method of hacking. You shouldn't violate its legal terms and conditions. Your intention to protect your child and watch your employee is not hacking.
You need to take protective steps and install an extra layer of protection to prevent keyloggers. If you don't want your personal information unsafe. It's easy to spot a keylogger, but it can trigger unauthorized transactions.
Related Stories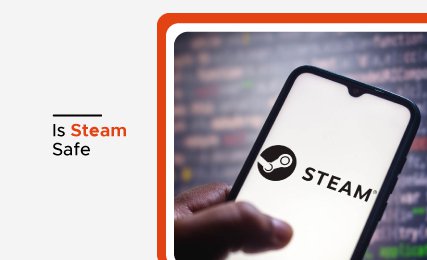 Is Steam Safe: A Complete Guide For Parents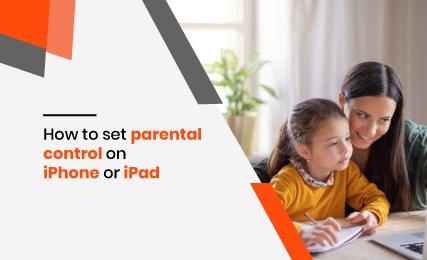 How to Set Parental control on iPhone or iPad