May 28, 2021
Juliya Smith
What is GroupMe?
If you have ever searched for a variety of group chatting applications that allow you to include many numbers of users at a time, then the Group Me messaging application is the one to send text message. The text messages are visible online.
There are a variety of social media available that allow instant messaging. With that, chatting app are necessary to organize calendar events on time for schools. Sometimes schools issue a computer for individual children and parents are responsible to look after them.
Also, schools app may be simple for which Group Me is usable under supervision. When kids use social media, they may encounter fake friends. Using the GroupMe chatting app, one can invite over 500 users and start the discussion when pleased. Group Me has users from all around the world. This is no less than what we expect from social media. You can directly message from this chatting app and it reaches the destination.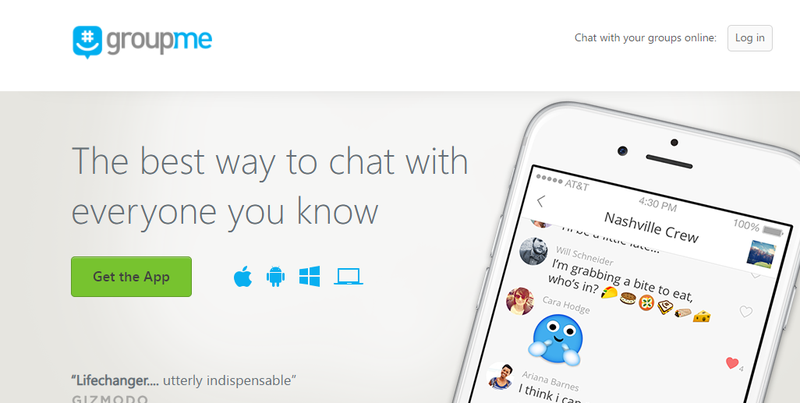 With numerous chatting app on increment and a few promising, GroupMe is a messaging application built by Microsoft. The exchange of messages via this application by the users is recorded as 100 million in a month. By 2013, the number increased up to 550 million. That didn't stop, and by 2013, there were 12 million people who had registered themselves as users in the groupme chatting.
Group provides some essential features to the users, the reason why it is getting so popular despite many other social media. It is free of cost, and users can make use of it from students to professionals. Unlimited applications are offering similar services of sending text message, but GroupMe allows the switching of services from data to text-based service or both and instant messaging features.
Downloading Group Me:
Downloading Group Me is possible via tablet or android phone using Google Play Store. For Apple users, go to the App Store via iPhone or iPad. In Windows Desktop, go to Microsoft Store. With Google Play Store, App Store, or Microsoft Store, you can download, install the app as per your devices and feasibility. You can access Group Me in the web version too.
Starting Chat In GroupMe:
Step 1= Select the New Chat icon in Chat tabs. For Apple users, it's Chat at the screen top.
Step 2=Select Start Group and you can choose the avatar of your choice.
Step 3=Add members of your choice by typing their phone numbers, email, or check your present Group Me contacts.
Step 4=For strict entry of members, you can enable the Request To Join option.
Step 5=Tap the Select or the checkmark for creating the group in GroupMe.
Joining And Rejoining Existing Group In GroupMe:
You may sometimes wish to join a group and sometimes leave. After leaving the messaging platforms and groups there may be possibilities for you to rejoin again. Here are some ways in which you can join or rejoin groups in GroupMe.
For Joining A Group In GroupMe:
To join a group in group me messages app, one of the members should share the link with you to receive the invitation. At certain times, you may have to request to join the group admin and wait until they accept your request and access the group and send text message.
For Rejoining The Group In GroupMe:
Step 1=Tap on Open Navigation Menu
Step 2=Press Archive button.
Step 3=Select Chats You Left.
Step 4=Identify the group you left, select Rejoin, Rejoin group (on desktop) for rejoining.
Privacy Policy In GroupMe:
GroupMe messages app makes sure not to share your private data with anyone. The email address or contact number is visible and accessible only to members of your group. People of other groups within GroupMe cannot reach it. When you are in a group, the only thing visible to other groups is their name and avatar.
Features Of Group Me:
The users can exchange messages with the help of the chatting application. You can use it to chat with friends or even interact in serious meeting with board of directors. Users can send complimentary text message, and its compatibility with any device is noticeable. Some features of Group Me in detail are:
Group Messaging For Free:
Group me allows private rooms to chat for users once you install the app. This feature is usable in offices for serious meetings like the ones in microsoft teams. You can invite family members online for some occasions or host an online party. You can chat with your friends while playing xbox games.Online gaming is fun and risky at the same time.
You can use Group Me from Windows, iOS, and Android devices. Working on every device makes it flexible for communication. Users can chat from home or the airport and even office irrespective of devices and operating system when you install the app on your device.
Application installation to use GroupMe is not necessary. You can extend your group members by adding them generally from the phone, and interaction is possible via text message. For only the users in the United States, messages are accessible using specific commands. Average rates of SMS fees may be applicable.
Some Global Commands:
Text The following commands in Group( phone number)
Forming a Group
#new[name of group]
This command creates a new group with a phone number.
For Help
#help
This command will send the list of commands useful in GroupMe.
Some Group Commands
You have to text the following lines to the phone number of your group.
Adding A Member
# add[name][number]
This command helps to add new members to your group.
Removing A Member
#remove[name or number]
If you wish to remove anyone, then use the remove command.
Muting And Unmuting
#mute and #unmute
You will stop receiving messages from the group after using the mute command. To unmute, you need to type unmute.
To Change Topic Of Group
#topic [topic]
Changes name of the group
To Check List Of Members In Your Group
#list
This command in GroupMe allows you to see the present members in your group.
To Change Your Name In Group
#name[name]
This command allows you to keep changing your nicknames as you please in the group.
To Leave Group
#exit
If you decide leaving the app by leaving the group then you can do so after the use of this command.
Some Extra Features Of GroupMe
Sharing Photographs: You can share a picture and upload file of your latest vacation or the place you visited last summer. Group Me provides the option to post pictures of your wish. You can capture your moment at Marco Polo chains of hotels and post it or enjoy the beach in Hawaii.
Posting videos: This application allows you to share essential videos. Let the visuals express what words failed to. The source of your video can be anywhere on the internet but be careful of content and it can be about anything, you just need to upload file.
Liking messages: You can place your heart on the people and show them your love. Tap as many hearts as possible and spread happiness. You scroll and can enjoy the images or videos posted by other members.
Gallery View: You can view all the pictures shared in different groups at one place, i.e., the gallery. Scrolling down the images during breaks is a good time pass while you search for some essential gif image and video.
Sharing Location: With this application, you can show where you are located in the world. If it's some business emergency, then show colleagues where you are. If it's a holiday, then you can let them know where you are traveling or volunteering for a nonprofit organization.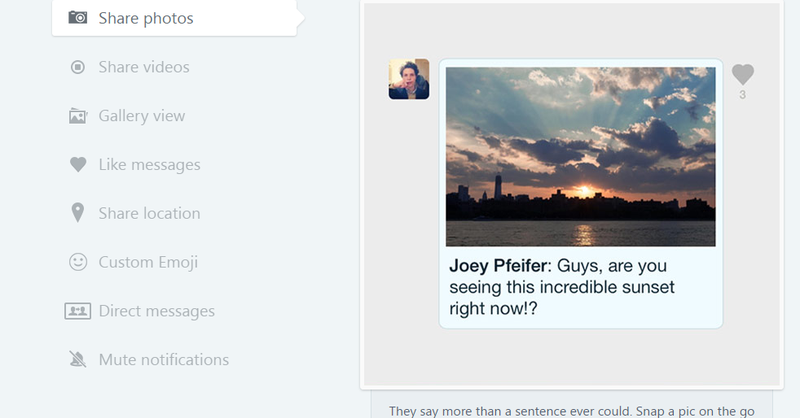 Handy Emojis: Emojis in Group Me will make the interaction friendly and fun. You can make your chat lively and refreshing via emojis. Just tap on the emoji of your choice, and they reach the other person. You can do this while listening to your favorite song via ipod touch.
Direct Message: If you wish to have a secret conversation with one of the members excluding the group, then Group Me also provides a feature for direct messaging. You need to tap on your friend's picture, and off you go conversing. You can block the people you wish. Blocking messaging for safety is important for kids as well as adults.
Muting Notifications: When the notification bell rings loud non stop it is time to mute chat. Group Me allows users the feature of muting notifications. You can work in peace while others are busy chit-chatting.
Pros OF Group Me:
Free Service: Group me provides both options for text-based service and data. SMS may be expensive, and with messages, the fees add up fast, but users can enjoy it free with the help of the internet, which is less costly than usual SMS.
Easy To Manage: You can reach out to individual people for secret private texting. Joining, inviting, removing members, and exiting groups are simple in GroupMe.
Better Communication: GroupMe is usable for the whole company. The planning, supervising, and overall activities of a company become smooth with the use of GroupMe. You can discuss the latest movies or even about coding relating to techcrunch disrupt.
Calling Facility: You can call members without any complications. You can waste time with your friend too and share pictures and videos without thinking much.
Cons Of Group Me:
Users have reported battery drainage when used continuously. Battery drainage is not preferable for an application used for messaging.
Sometimes details may be lost as there are no threads to cling to larger groups with many members. The chats may get confusing with many conversation starters.